Latest Book Reviews...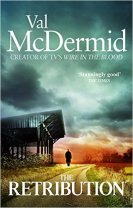 The Retribution
by Val McDermid

Average Rating
[7/10]
(1 Review)
Ben Macnair has sent in a review for
The Retribution
by Val McDermid, an unforgettable, gripping Tony Hill and Carol Jordan novel (Book 7). There is one serial killer who has shaped and defined police profiler Tony Hill's life. One serial killer whose evil surpasses all others. One serial killer who has the power to chill him to the bone: Jacko Vance. And now Jacko is back in Tony's life. Even more twisted and cunning than ever before, he is focused on wreaking revenge on Tony - and DCI Carol Jordan - for the years he has spent in prison. Tony doesn't know when Jacko will strike, or where. All he knows is that Jacko will cause him to feel fear like he has never known before - and devastate his life in ways he cannot imagine...
more»»
Ben Macnair 30th November 2016
[7/10]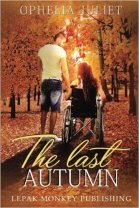 The Last Autumn
by Ophelia Juliet


Average Rating
[8/10]
(1 Review)
Paul has sent in a review for
The Last Autumn
by Ophelia Juliet.One piece of music. One boy, one girl. Music brings them together, or maybe not? For years, the piano prodigy, Richard Roberton, avoided the piano. He never dared to play in front of people nor dared to join any completion. His life wasn't perfect but he had Elizabeth – his best friend. He realized that he was in love with her. But it was too cliché and he didn't want to sacrifice their eleven-year-long friendship for something he was unsure of. High school was supposed to be most enjoyable times. But for Richard, it is the complete opposite. His best friend started dating another guy, which broke his heart. He envied people who could play the instrument they love. Unfortunately, life doesn't go as planned for Elizabeth. This changed the life of both Richard and Elizabeth... Would they be together at the end? Would Elizabeth able to get out of her life situation? This is a romantic, enthralling and very uplifting story about memory, pain, living, music, loving and dying – simultaneously tragic and promising. Standalone Young Adult Tearjerker Romance...
more»»

Paul Lappen
30th November 2016
[8/10]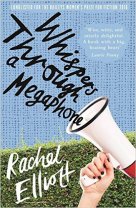 Whispers through a Megaphone
by Rachel Elliott

Average Rating
[7/10]
(1 Review)
Ben Macnair has sent in a review for
Whispers through a Megaphone
by Rachel Elliott. Miriam hasn't left her house in three years, and cannot raise her voice above a whisper. She still lives in the shadow of her dead mother... But today she has had enough, and is finally ready to rejoin the outside world. Meanwhile, Ralph has made the mistake of opening a closet door, only to discover that his wife Sadie doesn't love him... And so he decides to leave his home. Miriam and Ralph's chance meeting in a wood during stormy weather marks the beginning of an amusing, restorative friendship, while Sadie takes a break from Twitter to embark on an intriguing adventure of her own. As their collective story unfolds, each of them seeks to better understand the objects of their affection, and their own hearts, timidly refusing to stand still and accept the chaos life throws at them. Rachel Elliott's loveable characters confront the hardest things in life with delicious humour and steady courage. Because sometimes, our over-connected world can seem too much for just one person...
more»»
Ben Macnair 31st October 2016
[7/10]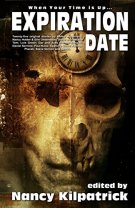 Expiration Date
by Nancy Kilpatrick (Editor)


Average Rating
[9/10]
(1 Review)
Paul has sent in a review for
Expiration Date
by Nancy Kilpatrick (Editor). Modern lives seem littered with expiration dates. Packaging tells us when our food will go bad; when we can expect appliances to cease functioning; when contracts for the internet finish! But as annoying as these small expiration dates are, they fade to nothing compared to the larger events: when a species goes extinct; when a body of water evaporates, or dies because the PH balance alters; when giant icebergs break apart and glaciers melt forever, threatening the ecosystem of this planet. From the micro to the macro in terms of expirations, we are faced with the one termination with which we are all too familiar - the up-close-and-personal end of life for each of us and for the ones we love. It's the personal that terrifies us most because it feels the most real. Nancy Kilpatrick has gathered together twenty-five original stories to look at the what-if's of our expiring future. These stories span a range of emotions. Some will make you laugh, other will make you cry. They are grim and hopeful, sad and joyous, horrifying and comforting. You can expect to be touched in some way...
more»»

Paul Lappen
31st October 2016
[9/10]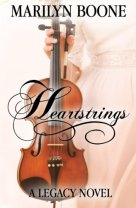 Heartstrings
by Marilyn Boone

Average Rating
[8/10]
(1 Review)
Molly has sent in a review for
Heartstrings
by Marilyn Boone. Two worlds collide when E.C. Coleman, the star quarterback for Madison High's football team, shows up at the Samaritan Centre, a place where Anna Holmes volunteers serving meals every week. He is everything she expects, arrogant, self-centred, and only there for a grade. Anna resents the distraction, wanting to stay focused on her dream of a violin scholarship to the university while helping her family with their café. But her younger brother, Aaron, loves football, and Anna would do almost anything to make him happy. Anna has had a difficult time trusting and believing in herself until, Louisa, the mysterious housekeeper at the Samaritan Centre, helps her gain the confidence she needs. At the same time, E.C.'s kindness to her brother is softening Anna's opinion of him. What will Anna do when she suddenly feels betrayed and grief threatens to unravel her dream? Can she accept that people are not always what they seem, maybe even, E.C...
more»»
Molly Martin
31st October 2016
[8/10]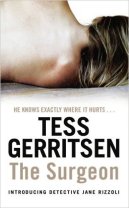 The Surgeon
by Tess Gerritsen

Average Rating
[6/10]
(1 Review)
Ben Macnair has sent in a review for
The Surgeon
by Tess Gerritsen. He slips into their homes at night and walks silently into bedrooms where women lie sleeping, unaware of the horrors they soon will endure. The precision of the killer's methods suggests he is a deranged man of medicine, propelling the Boston newspapers and the frightened public to name him 'The Surgeon'. The cops' only clue rests with another surgeon, the victim of a nearly identical crime. Two years ago, Dr. Catherine Cordell fought back and killed her attacker before he could complete his assault. Now she hides her fears of intimacy behind a cool and elegant exterior and a well-earned reputation as a top trauma surgeon. Cordell's careful facade is about to crack as this new killer recreates, with chilling accuracy, the details of Cordell's own ordeal. With every new murder he seems to be taunting her, cutting ever closer, from her hospital to her home. Her only comfort comes from Thomas Moore, the detective assigned to the case. But even Moore cannot protect Cordell from a brilliant hunter who somehow understands - and savours - the secret fears of every woman he kills...
more»»
Ben Macnair 30th September 2016
[6/10]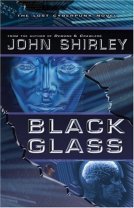 Black Glass
by John Shirley


Average Rating
[9/10]
(1 Review)
Paul has sent in a review for
Black Glass
by John Shirley. Taking the fall for his younger brother, Richard Candle went from being a cyber cop to a condemned criminal. After four years of 'UnMinding' with his mind suppressed and his body enslaved he's released to discover his brother has slipped back into the underworld of the V-Rat: the virtual reality addict. Meanwhile, Candle's harried by the murderous Grist, the head of the world's biggest multinational. But his real enemy is something else: a conscious program, the Multisemblant, a meld of copied personalities, the dark side of five powerful people, with its own brutal agenda. Human society is sinking ever deeper into a mire of escapism, but Richard Candle, looking for his missing brother, fights his way through the real world of underground stock markets, flying guns, the trash-walled labyrinth of Rooftown, and the fringe of the fringe...
more»»

Paul Lappen
30th September 2016
[9/10]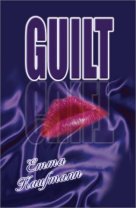 Guilt
by Emma Kaufmann

Average Rating
[9/10]
(1 Review)
Molly has sent in a review for
Guilt
by Emma Kaufmann. Bridget Jones meets Agatha Christie - a whodunit for the 21st century. Psychological suspense tracing the lives of Gilda and Clive, dysfunctional products of a twisted upbringing. As they try and extricate themselves from their gothic past, someone will have to be sacrificed. This is a spine tingling tale of murder, mayhem and emotional catharsis. Clive's analyst, Dr. Gerber, watches coolly as the drama unfolds. To him, the players are dehumanized, merely case studies in psychopathology. Will Dr. Gerber be able to stop the process from reaching its deadly conclusion? Or is it already too late...
more»»
Molly Martin
30th September 2016
[9/10]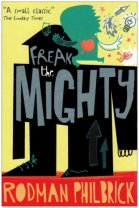 Freak the Mighty
by Rodman Philbrick

Average Rating
[9/10]
(2 Reviews)
Hannah has kindly sent in a review for
Freak the Mighty
by Rodman Philbrick. Extraordinarily powerful, uplifting and memorable, the story of
reak the Mighty
explores an unlikely friendship, and finds optimism and humour in a story of great poignancy. Bring your tissues. Maxwell Kane is feared and bullied because of his mental slowness and enormous size. Maxwell is used to being called Stupid. But this is not the only cross he has to bear; Maxwell's father is in jail for murdering his mother. Kevin is smart, quirky and funny with insatiable curiosity and zest for life but he suffers from a rare genetic condition, which inhibits the growth of his body. Kevin is used to being called Dwarf. And he is used to everyone laughing at him. On account of his size and being some cripple kid. Yet the combination of Kevin and Maxwell is formidable, when together they become
Freak the Mighty
...
more»»
Hannah 30th September 2016
[9/10]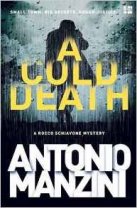 A Cold Death
by Antonio Manzini

Average Rating
[8/10]
(1 Review)
Chrissi has reviewed
A Cold Death
by Antonio Manzini. Small towns can hide big secrets, but Rocco Schiavone will do whatever it takes to bring them into the light. The second novel in the internationally bestselling series from Italian crime maestro Antonio Manzini. In an elegant apartment in a chilly Alpine town a cleaning lady makes a gruesome discovery: the body of her employer hanging from a chandelier in a dark room in an apparent suicide. Working the case is Deputy Police Chief Rocco Schiavone, banished from his beloved Rome to snowy, small-town Aosta. An incurable cynic, perpetually at war with the world – and the weather – Rocco is unconvinced that Esther killed herself. Armed with his intuition and his inimitable brand of morality, he begins to hunt for a killer. But as he digs deeper into Esther's life Rocco is increasingly troubled by personal matters: his dissatisfied girlfriend Nora; the very vocal memory of his deceased wife, Marina; and a score that still needs settling back in Rome....
more»»
Chrissi
31st August 2016
[8/10]
Archives
If you've come down this far you may be interested in our Archives, the place where all the old reviews go.

Column Ends