Latest Book Reviews...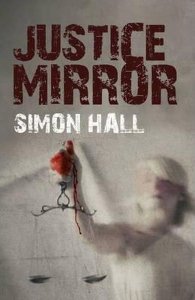 Justice Mirror
by Simon Hall

Average Rating
[8/10]
(1 Review)
Chrissi has reviewed
Justice Mirror
by Simon Hall.
Justice Mirror
was previously published as
Shadows of Justice.
Justice isn't always fair... The Justice Mirror... distorted reflections of reprisals and revenge. A vicious cycle of kidnapping, suicide, and murder. A mysterious motive hinted at only by the cryptic signature PP. A double killing in which every suspect has an alibi. A crime-fighting television reporter, with an agenda driven by his own heart, is drawn into the case and faces a battle for his future to solve it. And a race through a lightning storm to trap an unlikely murderer, sworn on seeing justice done in a shocking way that history has long left behind. The Justice Mirror... there is no such thing as a simple vision of vengeance. Gripping, fast-paced and nail-bitingly tense, this thriller will leave you wanting more. Perfect for fans of Ian Rankin, Angela Marsons, Rachel Abbott and Mel Sherratt...
more»»
Chrissi
31st May 2017
[8/10]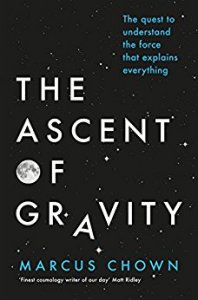 The Ascent of Gravity
by Marcus Chown

Average Rating
[9/10]
(1 Review)
Nigel has reviewed
The Ascent of Gravity
by Marcus Chown. Why the force that keeps our feet on the ground holds the key to understanding time and the origin of the universe. Gravity is the weakest force in the everyday world yet it is the strongest force in the universe. It was the first force to be recognised and described yet it is the least understood. It is a 'force' that keeps your feet on the ground yet no such force actually exists. Gravity, to steal the words of Winston Churchill, is 'a riddle, wrapped in a mystery, inside an enigma'. And penetrating that enigma promises to answer the biggest questions in science: what is space? What is time? What is the universe? And where did it all come from? Award-winning writer Marcus Chown takes us on an unforgettable journey from the recognition of the 'force' of gravity in 1666 to the discovery of gravitational waves in 2015. And, as we stand on the brink of a seismic revolution in our worldview, he brings us up to speed on the greatest challenge ever to confront physics…
more»»

Nigel
31st May 2017
[9/10]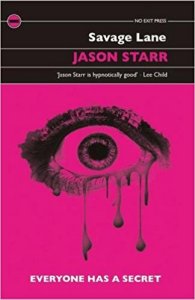 Savage Lane
by Jason Starr

Average Rating
[7/10]
(1 Review)
Ben Macnair has sent in a review for
Savage Lane
by Jason Starr. In
Savage Lane
, Jason Starr has crafted a searing tale of suspense that proves the adage: Love thy neighbour, but don t pull down your hedge. Karen Daily, recently divorced, lives with her two kids in a quaint suburb of New York City. She's teaching at a nearby elementary school, starting to date again, and for the first time in years has found joy in her life. Mark Berman, Karen s friend and neighbour, wants out of his unhappy marriage, and so does his wife, Deb, but they have stayed together for the sake of their children. Unbeknownst to Karen, while Mark's marriage has deteriorated his obsession with her has grown. And as Mark's rich fantasy life takes on a more sinister edge, rumours begin to spread about Karen and a bigger secret is uncovered. And soon Karen finds that Mark is not the only one who has taken an undesired interest in her. Jason Starr is one of our most accomplished writers of the darkness that lies within the human heart, and
Savage Lane
is his most riveting and intimate novel yet a dark, domestic thriller and an honest, searing satire of a declining marriage, suburban life, and obsessive love...
more»»
Ben Macnair 31st May 2017
[7/10]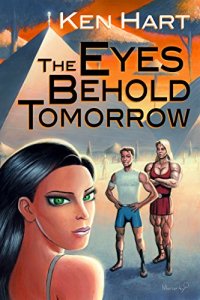 The Eyes Behold Tomorrow
by Ken Hart


Average Rating
[8/10]
(1 Review)
Paul has sent in a review for
The Eyes Behold Tomorrow
by Ken Hart. Edward Robert Teach is a modern-day barbarian that encompasses everything a woman loves and hates in a man. He abhors his notorious namesake, correctness in any form, and has a habit of expressing his opinion whenever it does the most offense. When he meets Kamini, a stunningly beautiful, large eyed woman from the planet Feletia, he thinks he has finally met the girl of his dreams until he is recruited by her, and he becomes the unlikeliest captain of a prototype destroyer in the Feletian space navy, giving him the ability to stir up more trouble than he can get out of. Queen Aphelia, leader of her female dominant society, and Kamini's mother, takes an interest in him. She uses Robert to attain her political goals, forcing him to learn harsh and sometimes painful lessons in humility when his earthbound attitude clashes with the strong-willed Feletian women. When Robert is powerless to stop the assassination of the Feletian royal family, Kamini ascends the throne and takes him as husband. He becomes Feletia's Regent, sparking a political and marital struggle that could bring the flames of galactic war to the peaceful planet...
more»»

Paul Lappen
31st May 2017
[8/10]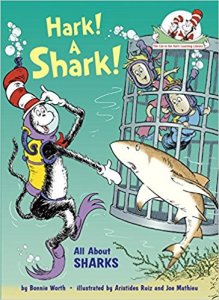 Hark! A Shark
by Bonnie Worth

Average Rating
[9/10]
(1 Review)
Molly has sent in a review for
Hark! A Shark
by Bonnie Worth. In this latest installment of the
Cat in the Hat's Learning Library
, the Cat introduces beginning readers to all kinds of sharks! From the smallest (the dwarf lantern) to the largest (the whale shark), the most notorius (the great white) to the most obscure (the goblin), the Cat explains why sharks have lots of teeth but no bones; how their tough skin helps them swim fast and stay clean (inspiring scientists--and bathing suit manufacturers!); how pores along the sides of their bodies help them sense prey; that they have more to fear from us than we do from them, and much, much more! Perfect for shark and Cat (in the Hat) fanciers, fans of the new PBS Kids preschool science show
The Cat in the Hat Knows a Lot About That!
will sink their teeth into this new addition to the series...
more»»
Molly Martin
31st May 2017
[9/10]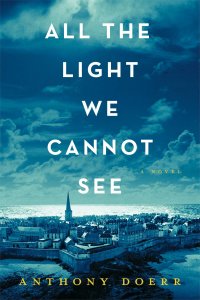 All the Light We Cannot See
by Anthony Doerr

Average Rating
[9/10]
(1 Review)
Ben Macnair has sent in a review for
All the Light We Cannot See
by Anthony Doerr. A beautiful, stunningly ambitious novel about a blind French girl and a German boy whose paths collide in occupied France as both try to survive the devastation of World War II Marie-Laure has been blind since the age of six. Her father builds a perfect miniature of their Paris neighbourhood so she can memorize it by touch and navigate her way home. But when the Nazis invade, father and daughter flee with a dangerous secret. Werner is a German orphan, destined to labour in the same mine that claimed his father's life, until he discovers a knack for engineering. His talent wins him a place at a brutal military academy, but his way out of obscurity is built on suffering. At the same time, far away in a walled city by the sea, an old man discovers new worlds without ever setting foot outside his home. But all around him, impending danger closes in. Doerr's combination of soaring imagination and meticulous observation is electric. As Europe is engulfed by war and lives collide unpredictably,
All the Light We Cannot See
is a captivating and devastating elegy for innocence...
more»»
Ben Macnair 30th April 2017
[9/10]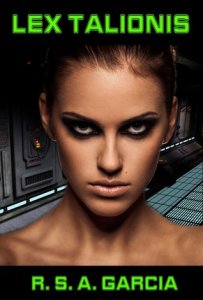 Lex Talionis
by R. S. A. Garcia


Average Rating
[9/10]
(1 Review)
Paul has sent in a review for
Lex Talionis
by R. S. A. Garcia. A battered young woman wakes from a coma in a space port hospital with no memories of her past. The only thing she remembers are two words: Lex Talionis - The Law of Revenge. To discover her identity, she must re-live the nightmares of her past, and face the only survivor of a terrible massacre that connects her with her abductors. This fast-paced stunning debut takes the readers through an emotional roller-coaster as Lex relives her ordeal and the shocking aftermath. Everything she learns draws her nearer to the person who almost destroyed her: the only man she has ever loved...
more»»

Paul Lappen
30th April 2017
[9/10]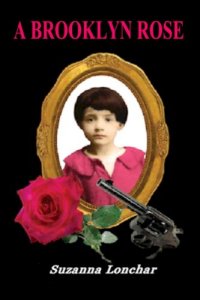 A Brooklyn Rose
by Suzanna Lonchar

Average Rating
[9/10]
(1 Review)
Molly has sent in a review for
A Brooklyn Rose
by Suzanna Lonchar. Imagine living next door to the famous Bonnano crime family or being held hostage by a gangster during a shoot-out or hiding Al Capones guns in your shoeshine box! This story lets you enter a world where extraordinary circumstances were merely everyday events. The Finazzo family travelled from Sicily to America in search of the fabled 'American Dream,' only to find poverty, tragedies, prison, death, and even murder. It was the era of prohibition, speakeasies, and later The Great Depression... gangsters, racketeers, and the mafia that corrupted the neighbourhood in Brooklyn, New York, where they migrated. This true story tells how each family member was affected by this extraordinary environment. Rosie leads you through her many heart-wrenching, yet sometimes, hilarious, adventures as she struggles to survive on the streets of Brooklyn. At age ten her character is hardened by poverty, murder, death, hunger, and the sound of screams from her mother's pain as she suffers with cancer. Rosie steals to eat, cusses, smokes and boxes...
more»»
Molly Martin
30th April 2017
[9/10]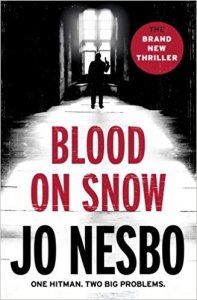 Blood on Snow
by Jo Nesbo

Average Rating
[5/10]
(1 Review)
Ben Macnair has sent in a review for
Blood on Snow
by Jo Nesbo. From the internationally acclaimed author of the Harry Hole novels a fast, tight, darkly lyrical stand-alone novel that has at its center the perfectly sympathetic antihero: an Oslo contract killer who draws us into an unexpected meditation on death and love. This is the story of Olav: an extremely talented fixer for one of Oslo s most powerful crime bosses. But Olav is also an unusually complicated fixer. He has a capacity for love that is as far-reaching as is his gift for murder. He is our straightforward, calm-in-the-face-of-crisis narrator with a storyteller s hypnotic knack for fantasy. He has an innate talent for subordination but running through his veins is a virus born of the power over life and death. And while his latest job puts him at the pinnacle of his trade, it may be mutating into his greatest mistake...
more»»
Ben Macnair 30th April 2017
[5/10]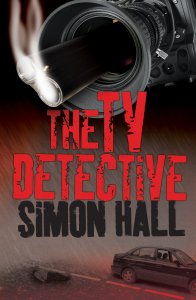 The TV Detective
by Simon Hall

Average Rating
[8/10]
(1 Review)
Chrissi has reviewed
The TV Detective
by Simon Hall.
The TV Detective
finds television reporter Dan Groves newly assigned to the crime beat, and in a state of angst about it. He needs a crash-course in police work; the solution is to shadow Detective Chief Inspector Adam Breen on a high-profile murder inquiry, which doesn't go down well with some members of the police force. The victim is a notorious local businessman, Edward Bray, a man with so many enemies that one of the problems the inquiry faces is having a surplus of suspects. Bray is killed at a prearranged meeting, in a lay-by on a dark and storm-lashed night, by a blast through the heart from a shotgun. Adam investigates and uncovers a tantalising question, which seems to be at the heart of the case: why was the killing planned for a different day, but put off apparently because the weather was sunny? Tensions abound between Dan and the police, and he comes close to being thrown off the case - until the detectives come to realise he might actually be helpful, in using the power of television to tempt the murderer into a trap...
more»»
Chrissi
28th February 2017
[8/10]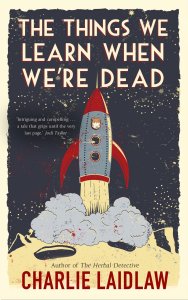 The Things We Learn When We're Dead
by Charlie Laidlaw

Average Rating
[8/10]
(1 Review)
Nigel has reviewed
The Things We Learn When We're Dead
by Charlie Laidlaw.
The Hitchhikers Guide to the Galaxy
meets
The Lovely Bones
in this surrealist, sci-fi comedy. Small decisions can have unintended consequences, but sometimes we get a second chance. On the way home from a dinner party she didn't want to attend, Lorna Love steps into the path of an oncoming car. When she wakes up she is in what appears to be a hospital – but a hospital in which her nurse looks like a young Sean Connery, she is served wine for supper, and everyone avoids here questions. It soon transpires that she is in Heaven, or on HVN. Because HVN is a lost, dysfunctional spaceship, and God the aging hippy captain. She seems to be there by accident. Or does God have a higher purpose after all? At first Lorna can remember nothing. As her memories return – some good, some bad – she realises that she has decisions to make and that she needs to find a way home…
more»»

Nigel
28th February 2017
[8/10]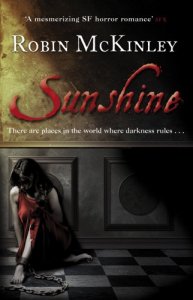 Sunshine
by Robin McKinley


Average Rating
[8/10]
(1 Review)
Chrissi has reviewed
Sunshine
by Robin McKinley. Rae, nicknamed Sunshine by her stepfather, is the baker at her family's coffeehouse. She's happy getting up at 4 am to make cinnamon rolls for the breakfast rush, and dealing with people and food all day. But one evening she needed somewhere she could be alone for a little while. There are places in the world where darkness rules, where it's unwise to walk. But the lake had been quiet for years. She never heard them coming. Of course you don't, when they're vampires. They took her clothes and sneakers. They dressed her in a long red gown. And they shackled her to the wall of an abandoned mansion - within easy reach of her fellow prisoner. She knows he is a vampire. She knows that she's to be his dinner, and that when he is finished with her, she will be dead. Yet when dawn breaks, she is still alive. And now he needs her to help him survive the day...
more»»
Chrissi
28th February 2017
[8/10]
Knots and Crosses
by Ian Rankin

Average Rating
[7/10]
(1 Review)
Ben Macnair has sent in a review for
Knots and Crosses
by Ian Rankin. 'And in Edinburgh of all places. I mean, you never think of that sort of thing happening in Edinburgh, do you...?' 'That sort of thing' is the brutal abduction and murder of two young girls. And now a third is missing, presumably gone to the same sad end. Detective Sergeant John Rebus, smoking and drinking too much, his own young daughter spirited away south by his disenchanted wife, is one of many policemen hunting the killer. And then the messages begin to arrive: knotted string and matchstick crosses - taunting Rebus with pieces of a puzzle only he can solve. So begins the case that introduced the crime world to one of its most compelling characters. Whether you're turning the pages for the first time, or reliving the mystery,
Knots and Crosses
is unmissable reading...
more»»
Ben Macnair 28th February 2017
[7/10]
Archives
If you've come down this far you may be interested in our Archives, the place where all the old reviews go.

Column Ends