Latest Book Reviews...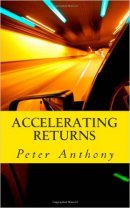 Accelerating Returns
by Peter Anthony

Average Rating
[9/10]
(1 Review)
Paul has sent in a review for
Accelerating Returns
by Peter Anthony. The Law of Accelerating Returns states that technology in the coming century will be so "rapid and profound it represents a rupture in the fabric of human history." On one side will stand those who welcome radical advancement in technology, versus those on the other side who attempt to subvert and destroy it. These are the Blockers - rogue extremists who create spectacles of worst-case-scenario science to spur the masses to action. Rule #7 of KillJoy's Manifesto: A Blocker does not operate underground. He participates in a group. He is mainstream. All things anathema to him, he must embrace and make central to his life. Inspired by Ray Kurzweil's
Law of Accelerating Returns
, Bill Joy's
Why the Future Doesn't Need Us
, and Hugo de Garis' T
he Coming Artilect War
...
more»»

Paul Lappen
30th June 2016
[9/10]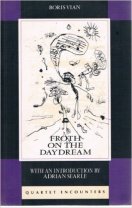 Froth on the Daydream
by Boris Vian

Average Rating
[6/10]
(1 Review)
Ben Macnair has sent in a review for
Froth on the Daydream
by Boris Vian, a surrealist and existentialist novel renowned for its poetic and creative language. It relates how Colin's existence darkens gradually when his wife catches an illness than can only be cured with flowers? The world of
Froth on the Daydream
is a stained-glass cartoon kind of a place, where the piano dispenses cocktails, the kitchen mice dance to the sound of sunbeams, and the air is three parts jazz. Colin is a wealthy young aristocrat, a slim, innocent creature who loves easily. The instant he sees Chloe, bass drums thump inside his shirt, and soon the two are married. Typically generous, Colin gives a quarter of his fortune to his best friend Chick so he can marry Chloe's friend Alyssum. But a lily grows in Chloe's lung, and Colin must spend his remaining fortune on the only available treatment: surrounding her daily with fresh flowers. Chick squanders his share of Colin's money on rare editions of Jean Pulse Heartre, and Alyssum decides her only recourse is to murder the philosopher whose books are ruining her husband. Chick and Colin's money woes force them to sacrifice their carefree lives to soul-crushing work, and even the suicidal mice wear themselves out trying to restore the lustre to the kitchen tiles...
more&raquo&raquo
Ben Macnair 30th June 2016
[6/10]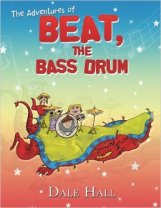 Beat, the Bass Drum
by Dale Hall

Average Rating
[8/10]
(1 Review)
Chrissi has reviewed
Beat, the Bass Drum
by Dale Hall. While doing chores for an old lady in the village to save money for his own drum kit, Jake, through chance or fate, stumbles across a magical musical miracle that might just make his dream of becoming a professional drummer really happen! But beware, not everyone wants Jake's dream to come true. Dale has played drums for many years, through which he has found out that the drums are part of him, almost as if they are playing instead of him. This inspired the stories of Beat, the Bass Drum. Dale is a great ambassador for music and is very passionate about encouraging young children into the universal world of music. Having performed on television, drumming for popular artists, he is aware of the importance of having a good teacher to encourage you, even when you're making slow progress, but still feels luck is the most important ingredient in life...
more&raquo&raquo
Chrissi
31st May 2016
[8/10]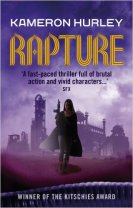 Rapture
by Kameron Hurley

Average Rating
[6/10]
(1 Review)
Ben Macnair has sent in a review for
Rapture
by Kameron Hurley. After years in exile, Nyxnissa so Dasheem is back in action in service to the bel dames, a sisterhood of elite government assassins tasked with eliminating deserters and traitors. The end of a centuries-long holy war between her country, Nasheen, and neighbouring Chenja has flooded the streets of Nasheen with unemployed - and unemployable - soldiers whose frustrations have brought the nation to the brink of civil war. Not everyone likes this tenuous and unpredictable "peace," however, and somebody has kidnapped a key politician whose death could trigger a bloody government takeover. With aliens in the sky and revolution on the ground, Nyx assembles a team of mad magicians, torturers, and mutant shape-shifters for an epic journey across a flesh-eating desert in search of a man she's not actually supposed to kill. Trouble is, killing is the only thing Nyx is good at. And she already left this man to die...
more&raquo&raquo
Ben Macnair 31st May 2016
[6/10]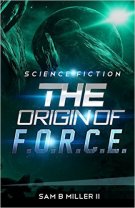 The Origin of F.O.R.C.E.
by Sam B. Miller II

Average Rating
[9/10]
(1 Review)
Paul has sent in a review for
The Origin of F.O.R.C.E.
by Sam B. Miller II. The first scout ships of the Chrysallaman Empire made contact in 1947. Their mission was simple: find a suitable planet for colonization. Earth - HG-281 - was the perfect target. Rich with land, minerals, and water, the blue planet could boast only of a primitive race of defenders known as Humans, bugs who could be easily squashed by the might of a single Chrysallaman's mind. When one of the scout ships is unexpectedly brought down, the advance party is forced to return to their home planet 30 light-years away to report and regroup. In their wake, they left behind a broken ship, dead crew members, and a young alien boy who would grow to become one of Earth's greatest assets - and her greatest ally. The lizard-like aliens would be back, and in force. Mankind must prepare a strategy capable of defending against not only superior technology, but superior psychic ability and strength. It will take an elite group of military personnel, brilliant scientists, a sombrero-wearing alien, and another generation to plant the seeds that will grow into a World Wide Defense, the likes of which the Chrysallamans have never known...
more»»

Paul Lappen
31st May 2016
[9/10]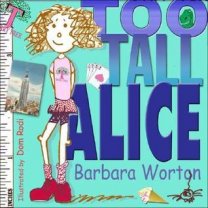 Too Tall Alice
by Barbara Worton

Average Rating
[9/10]
(1 Review)
Molly has sent in a review for
Too Tall Alice
by Barbara Worton. Alice is tall. Not T-Rex or Empire State Building tall. Just four inches taller than the other eight-year-old girls at her school. Her mum says she's tall. Her dad says she's tall. But Alice is worried that being tall isn't okay. "Hi, I'm Alice. I'm eight years old, and I have something to say. It's not easy to be tall. I know. I'm four inches taller than any of the other girls in my class. And then, I have a friend who's kind of short, and she's not too happy about that either. So, I guess it's just not easy being different. But I think it's okay to be different … to be you! What's different, anyway? Boy, I wish I knew." ...
more&raquo&raquo
Molly Martin
31st May 2016
[9/10]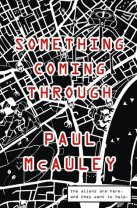 Something Coming Through
by Paul McAuley

Average Rating
[6/10]
(1 Review)
Ben Macnair has sent in a review for
Something Coming Through
by Paul McAuley. The aliens are here. And they want to help. The Jackaroo have given humanity fifteen worlds and the means to reach them. They're a chance to start over, but they're also littered with ruins and artefacts left by the Jackaroo's previous clients. Miracles that could reverse the damage caused by war, climate change, and rising sea levels. Nightmares that could forever alter humanity - or even destroy it. Chloe Millar works in London, mapping changes caused by imported scraps of alien technology. When she stumbles across a pair of orphaned kids possessed by an ancient ghost, she must decide whether to help them or to hand them over to the authorities. Authorities who believe that their visions point towards a new kind of danger. And on one of the Jackaroo's gift-worlds, the murder of a man who has just arrived from Earth leads policeman Vic Gayle to a war between rival gangs over possession of a remote excavation site...
more&raquo&raquo
Ben Macnair 30th April 2016
[6/10]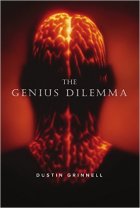 The Genius Dilemma
by Dustin Grinnell

Average Rating
[9/10]
(1 Review)
Paul has sent in a review for
The Genius Dilemma
by Dustin Grinnell. A team of scientists has invented a new smart drug named Trillium. A revolutionary medical breakthrough, Trillium enhances cognitive abilities, creating geniuses. But the researchers are horrified to discover that genius comes at a cost. Leviathan, the CIA's assassination team, has been tasked with eliminating global threats using any means necessary. When their superior General Beranger learns about Trillium, he believes he's uncovered a distinct advantage in the fight against terrorism. After convincing the scientists to share the drug with his team, Beranger learns there's just one problem - Trillium creates cold-blooded psychopaths. The first casualty is CIA operative David Landry who snaps hours after taking the drug. When he goes rogue, it's up to Special Forces, along with renowned neuroscientist Alan Pierce and psychiatrist Michelle Emmett, to stop them. Armed with a hastily concocted antidote, the team hunts Landry. His destination? Africa. Nasir Lwazi, the Kenyan president, has recently been murdered. Believing Lwazi's son Thomas is a threat to national security, Landry is on a ruthless mission to destroy him and he doesn't plan to let anyone get in his way...
more»»

Paul Lappen
30th April 2016
[9/10]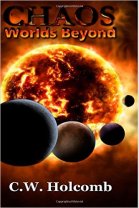 Chaos: Worlds Beyond
Volume 1 (Reflections of Infinity)
by C.W. Holcomb

Average Rating
[9/10]
(1 Review)
Molly has sent in a review for
Chaos: World's Beyond
, Book one of C.W. Holcomb's the reflections of infinity series. As young gods fall to the Worlds from the stars they are born in, appearing as comets streaking across the sky; sentient magical artefacts call to the minds of men: calling with images and promises of power from Wild Worlds. Massive and strange they hold gigantic monsters and wonders that are beyond the scope of the imaginations of the fearless Tribe of warriors that dare to magically travel to them. C. W. Holcomb's works are based on Ancient Myths and folklore. The first novel of his newest series,
Chaos: World's Beyond
is inspired heavily by Greek Mythology; as well as works by well-known authors such as C.S. Lewis, J.R.R Tolkien and Raymond E. Feist...
more&raquo&raquo
Molly Martin
30th April 2016
[9/10]
Archives
If you've come down this far you may be interested in our Archives, the place where all the old reviews go.

Column Ends