Latest Book Reviews...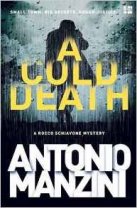 A Cold Death
by Antonio Manzini

Average Rating
[8/10]
(1 Review)
Chrissi has reviewed
A Cold Death
by Antonio Manzini. Small towns can hide big secrets, but Rocco Schiavone will do whatever it takes to bring them into the light. The second novel in the internationally bestselling series from Italian crime maestro Antonio Manzini. In an elegant apartment in a chilly Alpine town a cleaning lady makes a gruesome discovery: the body of her employer hanging from a chandelier in a dark room in an apparent suicide. Working the case is Deputy Police Chief Rocco Schiavone, banished from his beloved Rome to snowy, small-town Aosta. An incurable cynic, perpetually at war with the world – and the weather – Rocco is unconvinced that Esther killed herself. Armed with his intuition and his inimitable brand of morality, he begins to hunt for a killer. But as he digs deeper into Esther's life Rocco is increasingly troubled by personal matters: his dissatisfied girlfriend Nora; the very vocal memory of his deceased wife, Marina; and a score that still needs settling back in Rome....
more&raquo&raquo
Chrissi
31st August 2016
[8/10]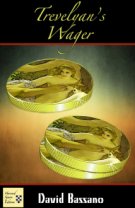 Trevelyan's Wager
by David Bassano

Average Rating
[9/10]
(1 Review)
Nigel has reviewed
Trevelyan's Wager
by David Bassano. This intriguing story investigates timeless themes of life and death, as genetically-modified individuals enjoy eternal youth in great luxury on the mysterious island of Elysium. The trillion-dollar Elysium Corporation has perfected the science of genetically-induced immortality. Decay and death are no longer inevitable. For the right price, you can now enjoy eternal youth, and in great luxury. This is mankind's ultimate achievement. William del Grappa, a journalist with a taste for the dark side of human life, is invited to this paradise by Sophia Trevelyan, an Immortal of almost mythical intelligence and beauty. Life on Elysium is utterly perfect – or so Sophia thinks, before her indelicate visitor dis-covers a critical flaw...
more&raquo&raquo

Nigel
31st August 2016
[9/10]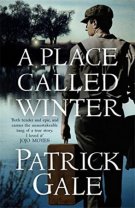 A Place Called Winter
by Patrick Gale

Average Rating
[7/10]
(1 Review)
Ben Macnair has sent in a review for
A Place Called Winter
by Patrick Gale. To find yourself, sometimes you must lose everything. A privileged elder son, and stammeringly shy, Harry Cane has followed convention at every step. Even the beginnings of an illicit, dangerous affair do little to shake the foundations of his muted existence - until the shock of discovery and the threat of arrest cost him everything. Forced to abandon his wife and child, Harry signs up for emigration to the newly colonised Canadian prairies. Remote and unforgiving, his allotted homestead in a place called Winter is a world away from the golden suburbs of turn-of-the-century Edwardian England. And yet it is here, isolated in a seemingly harsh landscape, under the threat of war, madness and an evil man of undeniable magnetism that the fight for survival will reveal in Harry an inner strength and capacity for love beyond anything he has ever known before. In this exquisite journey of self-discovery, loosely based on a real life family mystery, Patrick Gale has created an epic, intimate human drama, both brutal and breathtaking. It is a novel of secrets, sexuality and, ultimately, of great love...
more&raquo&raquo
Ben Macnair 31st August 2016
[7/10]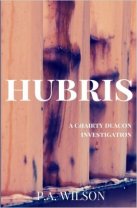 Hubris
by P. A. Wilson


Average Rating
[8/10]
(1 Review)
Paul has sent in a review for
Hubris
by P.A. Wilson. or Charity Deacon, a private investigator with a nose for trouble, danger is just a way of life. She witnesses a car crash that hides a brutal murder. The police don't talk to PIs, but maybe they'll explain why the victim had a bullet hole in his head in exchange for the photos and video she collected right at the scene. Her latest client is a young streetwalker named Val. She's used to fending for herself, but her sister Emma has fallen into something big, and anyone who shows too much interest in this particular business is liable to catch a sudden case of death. She needs the help of a pro, and soon, or Emma may not survive to be rescued. As Charity traces each lead with Val in tow, they get closer and closer to the most dangerous criminals in the city — the Chinese gangs that like to kill anyone who gets too curious...
more»»

Paul Lappen
31st August 2016
[8/10]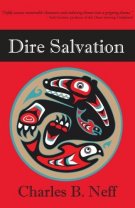 Dire Salvation
by Charles B. Neff

Average Rating
[8/10]
(1 Review)
Molly has sent in a review for
Dire Salvation
, Charles B. Neff's captivating fifth thriller, the story of a complex murder investigation that propels local law enforcement officers to search for the source of a sophisticated new drug. Set in the Cascade Mountains of Central Washington state, the pace of Dire Salvation is swift, as accelerating action over five days builds suspense at every turn. Calla Ogden's carefully organized life as a social worker in Washington's Central Cascade Mountains begins to fall apart when her half-brother is arrested for murder. The investigation centers on a fish hatchery operated by a local Native American tribe, and soon draws in Mayor Phil Bianchi and Greg Takarchuk, a junior police officer. As Phil and Calla grow close, they confront causes for the murder that bring them face to face with a dangerous new drug and with old events tied to Calla's native heritage. Native lore and modern science combine in a treacherous final confrontation that threatens to sweep away many lives, and with them, new-found love...
more&raquo&raquo
Molly Martin
31st August 2016
[8/10]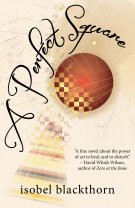 A Perfect Square
by Isobel Blackthorn


Average Rating
[8/10]
(1 Review)
Michelle Saftich has sent in a review for
A Perfect Square
by Isobel Blackthorn. When pianist Ginny Smith moves back to her mother's house in Sassafras after the breakup with the degenerate Garth, synaesthetic and eccentric Harriet Brassington-Smythe is beside herself. She contrives an artistic collaboration to lift her daughter's spirits: an exhibition of paintings and songs. Ginny reluctantly agrees. While mother and daughter struggle with the elements of the collaborative effort, and as Ginny tries to prise the truth of her father's disappearance from a tight-lipped Harriet, both are launched into their own inner worlds of dreams, speculations and remembering. Meanwhile, another mother and artist, Judith, alone in a house on the moors, reflects on her own troubled past and that of her wayward daughter, Madeleine. Set amid the fern glades and towering forests of the Dandenong ranges east of Melbourne, and on England's Devon moors,
A Perfect Square
is a literary thriller of remarkable depth and insight...
more&raquo&raquo
Michelle Saftich 31st August 2016
[8/10]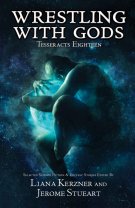 Tesseracts Eighteen:
Wrestling with Gods
by Liana Kerzner and Jerome Stueart, Editors


Average Rating
[9/10]
(1 Review)
Paul has sent in a review for
Tesseracts Eighteen: Wrestling with Gods
by Liana Kerzner and Jerome Stueart, Editors. A mechanical Jesus for your shrine, the myths of cuttlefish, a vampire in residential schools, a Muslim woman who wants to get closer, surgically, to her god, the demons of outer space, the downside of Nirvana. The 24 science fiction and fantasy stories and poems included in Tesseracts 18: Wrestling with Gods take their faith and religion into the future, into the weird and comic and thought-provoking spaces where science fiction and fantasy has really always gone, struggling with higher powers, gods, the limits of technology, the limits of spiritual experience. At times profound, these speculative offerings give readers a chance to see faith from the believer and the skeptic in worlds where what you believe is a matter of life, death, and afterlife.
Featuring works by:
Derwin Mak, Robert J. Sawyer, Tony Pi, S. L. Nickerson, Janet K. Nicolson, John Park, Mary-Jean Harris, David Clink, Mary Pletsch, Jennifer Rahn, Alyxandra Harvey, Halli Lilburn, John Bell, David Jón Fuller, Carla Richards, Matthew Hughes, J. M. Frey, Steve Stanton, Erling Friis-Baastad, James Bambury, Savithri Machiraju, Jen Laface and Andrew Czarnietzki, David Fraser, Suzanne M. McNabb, and Megan Fennell...
more»»

Paul Lappen
31st August 2016
[9/10]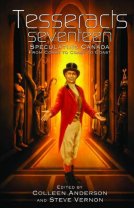 Tesseracts Seventeen:
Speculating Canada from Coast to Coast to Coast
by Colleen Anderson and Steve Vernon, Editors


Average Rating
[9/10]
(1 Review)
Paul has sent in a review for
Tesseracts Seventeen: Speculating Canada from Coast to Coast to Coast
. Editors Steve Vernon and Colleen Anderson have gathered thirty fresh new stories and poems of horror, science-fiction and fantasy from authors residing in EACH of the provinces and territories of Canada. Find out what cold darkness lurks in the heart of a Tuktoyaktuk blizzard. Hear a long-lost legend, lingering by a lonely lighthouse, perched on the shores of Manitoulin Island. Meet a hambone ghostly actor in search of his next gig in the Ottawa Museum of Nature. Learn the colors of the graffiti that tattoo the grey tenement walls of Montreal. In the Maritimes find out how coming events can be foreseen in a few shards of pottery or solve a murder by reliving the memory of a dead man. Explore a distant future, rife with acronym or trace the delicate fancies of the calligrapher's daughter. Come join us on a magnificent cross-country trek through worlds familiar and unknown and enjoy over two dozen stories and poem - fantastic and frightening; inspirational, illuminating and eerily surreal.
Featuring works by:
Catherine Austen, Jason Barrett, John Bell, Dave Beynon, Dwain Campbell, Rachel Cooper, Megan Fennell, David Jón Fuller, Ben Godby, Costi Gurgu, Alyxandra Harvey, Dianne Homan, Eileen Kernaghan, Claude Lalumière, Mark Leslie, Catherine MacLeod, William Meikle, Elise Moser, Dominik Parisien, Rhonda Parrish, Vincent Grant Perkins, Lisa Poh, Timothy Reynolds, Patricia Robertson, Rhea Rose, Holly Schofield, Lisa Smedman, J.J. Steinfeld, Steve Vernon, Edward Willett...
more»»

Paul Lappen
31st August 2016
[9/10]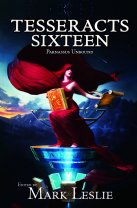 Tesseracts Sixteen:
Parnassus Unbound
by Mark Leslies, Editor


Average Rating
[9/10]
(1 Review)
Paul has sent in a review for
Tesseracts Sixteen: Parnassus Unbound
by Mark Leslie, Editor. According to Greek Mythology, Mount Parnassus was sacred to Apollo (god of prophecy, music, intellectual pursuits and the arts) and home of the Muses. At the base of the mountain was a fountain named Castalia (a transformed nymph) that could inspire the genius of poetry for anyone who drank her waters or listened to her quiet soothing sounds. The theme for
Tesseracts Sixteen: Parnassus Unbound
is speculative fiction inspired by literature, music, art and culture. In selecting stories, editor Mark Leslie's goal was to capture not only the spirit of what might be found on Mount Parnassus, but to allow it to be released, freed from the mythological Greek mountain and expanded upon in a way that only speculative literature can "unbind" such a theme.
Featuring works by:
Neil Peart & Kevin J. Anderson, Robert J. Sawyer, Ryan Oakley, Steve Vernon, Hugh A. D. Spencer, Sandra Kasturi, Michael Kelly, Rebecca Senese, Randy McCharles, Chadwick Ginther, Stephen Kotowych, Carolyn Clink, J. J. Steinfeld, David Clink, Robert H. Beer, L. T. Getty, Scott Overton, Sean Costello, Virginia O'Dine, Melissa Yuan-Innes, Derwin Mak, Kimberly Foottit, Matthew Jordan Schmidt, Adria Laycraft, and Jeff Hughes...
more»»

Paul Lappen
31st August 2016
[9/10]
Archives
If you've come down this far you may be interested in our Archives, the place where all the old reviews go.

Column Ends