Latest Book Reviews...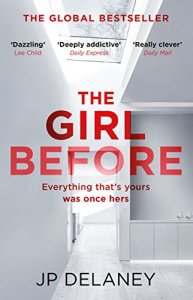 The Girl Before
by J. P. Delaney

Average Rating
[7/10]
(1 Review)
Ben Macnair has sent in a review for
The Girl Before
by J. P. Delaney. Enter the world of One Folgate Street and discover perfection... but can you pay the price? Jane stumbles on the rental opportunity of a lifetime: the chance to live in a beautiful ultra-minimalist house designed by an enigmatic architect, on condition she abides by a long list of exacting rules. After moving in, she discovers that a previous tenant, Emma, met a mysterious death there - and starts to wonder if her own story will be a re-run of the girl before. As twist after twist catches the reader off guard, Emma's past and Jane's present become inexorably entwined in this tense, page-turning portrayal of psychological obsession...
more»»
Ben Macnair 31st December 2018
[7/10]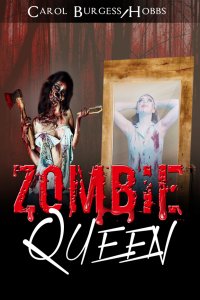 Zombie Queen
by Carol Burgess Hobbs


Average Rating
[9/10]
(1 Review)
Paul has sent in a review for
Zombie Queen
by Carol Burgess Hobbs. With an ordinary accident everything changes. A new life in the form of a virus is set free and brings about the end of life as we know it. The government, in its great wisdom, falls back on their favourite philosophy, "Never Let a Good Crisis Go to Waste." They step in to save mankind. Unfortunately, their idea of a solution involves letting the virus work its magic, getting rid of two-thirds of the population. A woman starts with the worst life, from abandonment after adoption to abuse. The woman is given a child. Not only must her child be born from a virus, this child must "Die" to defeat the ultimate enemy - the new undead. Trained by her Special Forces Father, the child is soon forced to fight death alongside veterans in an attempt to save citizens from becoming who she is. The child from a new world that learns you must fight death with death...
more»»

Paul Lappen
31st December 2018
[9/10]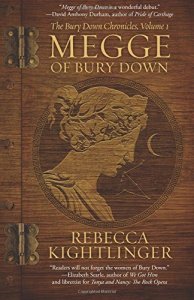 Megge of Bury Down
by Rebecca Kightlinger

Average Rating
[9/10]
(1 Review)
Molly has sent in a review for
Megge of Bury Down
by Rebecca Kightlinger. In 13th-century Cornwall, on a sheep farm in the shadow of Bury Down - known for a thousand years as the land of the second sight - a healer has vowed to face flames rather than fail in her one task in this life: to bring her young daughter to vow to protect 'The Book of Seasons', an ancient grimoire whose power sustains the spirits of their ancestors. On the night of her vow-taking, wanting only to become a woman of Bury Down like her mother and aunts, and drawn by an inexplicable yearning to possess her mother's book, Megge reaches for it. But when she touches its cover, it burns her fingers and she hears a whisper. Murderer! Although the book is her legacy, she refuses to touch it again. If she does, she is certain she will be the death of those she loves. But seven years later, events conspire to force her to once again to accept her responsibility. If she refuses to take up the task, who will ensure the Book's ancient wisdom survives, safe from the hands of those who would use it for evil...
more»»
Molly Martin
31st December 2018
[9/10]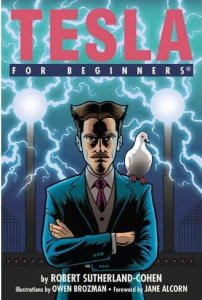 Tesla for Beginners
by Robert Sutherland-Cohen


Average Rating
[9/10]
(1 Review)
Paul has sent in a review for
Tesla for Beginners
by Robert Sutherland-Cohen. The father of modern-day electricity and considered by some to be the ultimate "mad scientist," Nikola Tesla filed nearly 300 patents in his lifetime. Many of these patents resulted in functioning inventions; others were little more than wide-eyed dreams - or still await possible development.
Tesla for Beginners
examines the man behind the alternating current and wireless technologies who travelled from Serbia by steamship to arrive in the United States with only four cents in his pocket. It was in the early 1880s, at the tail end of the Industrial Revolution and the beginning of the Second Industrial Revolution, that America beckoned him. Nikola Tesla - a poet of invention - left behind a vast and intriguing legacy. He was a scientist, physicist, mathematician, electrical engineer, and extensively published author who spent his last decades scraping for funding for celestial projects and living out his final days in penurious solitude with a pigeon...
more»»

Paul Lappen
30th November 2018
[9/10]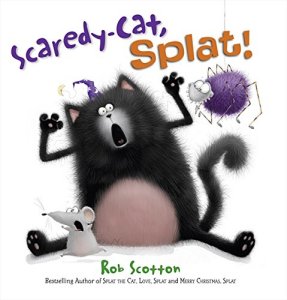 Scaredy-Cat, Splat!
by Rob Scotton

Average Rating
[9/10]
(1 Review)
Molly has sent in a review for
Scaredy-Cat, Splat!
by Rob Scotton. The fourth hilarious story about Splat the Cat, the irresistible character from Rob Scotton, bestselling creator of Russell the Sheep. It's Halloween and Splat is determined to be the scariest cat in the class. Unfortunately he's just too much of a scaredy-cat. He's afraid of a little spider, and everyone says his costume looks more silly than scary. And when the teacher tells a ghost story in the dark, Splat gets so frightened that he tips over his pumpkin jack-o-lantern. But when the lights go back on, the entire class is scared silly by a small, black furry creature with a big pumpkin head. Whoooo could it be?
Age Range: 3-5 years...
more»»
Molly Martin
30th November 2018
[9/10]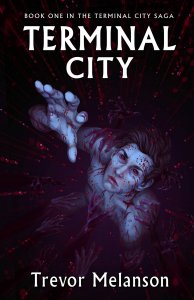 Terminal City
by Trevor Melanson


Average Rating
[9/10]
(1 Review)
Paul has sent in a review for
Terminal City
by Trevor Melanson, Book One in the Terminal City Saga. Mason Cross never wanted to be anything like his father, a famous professor who, it turns out, was also a necromancer. But death changes people. Now Mason is following in his dead dad's footsteps, down a dark, solitary path between two competing lives: one as a student at Terminal City's top university, the other as a necromancer. But will he find the answers he's looking for? Or will he find only death, caught in a hidden war between necromancers and a religious inquisition? As the gravity of both worlds bears down on him, Mason will need to discover not just new power but also what a human life is really worth...
more»»

Paul Lappen
30th November 2018
[9/10]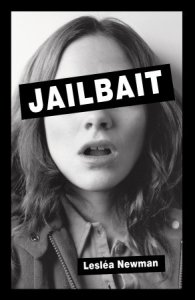 Jailbait
by Lesléa Newman

Average Rating
[9/10]
(1 Review)
Molly has sent in a review for
Jailbait
by Lesléa Newman. Andrea Robin Kaplan is a clique unto herself. In other words, she has no friends. Her only goal is get through high school with the least amount of humiliation possible, which should be easy, nothing ever happens in the suburbs, right? Wrong. It's September 7, 1971, the first day of tenth grade for fifteen-year-old Andi Kaplan. Teased by the school bully because of her appearance, and largely ignored by her depressed mother and workaholic father, Andi spends most of her time alone until she meets Frank, a man more than twice her age. Because she is "jailbait," Frank forbids Andi to tell anyone about their relationship. As he turns from being loving and attentive to controlling and abusive, Andi finds herself more and more alone. How will she find the strength to save herself before it's too late? From boundary breaking author Lesléa Newman comes a haunting story about a girl who is all alone, and a man old enough to know better...
more»»
Molly Martin
30th November 2018
[9/10]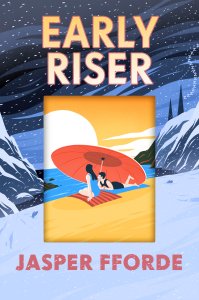 Early Riser
by Jasper Fforde

Average Rating
[9/10]
(1 Review)
Nigel has reviewed
Early Riser
by Jasper Fforde. Every Winter, the human population hibernates. During those bitterly cold four months, the nation is a snow-draped landscape of desolate loneliness and devoid of human activity. Well, not quite. Your name is Charlie Worthing and it's your first season with the Winter Consuls, the committed but mildly unhinged group of misfits who are responsible for ensuring the hibernatory safe passage of the sleeping masses. You are investigating an outbreak of viral dreams which you dismiss as nonsense; nothing more than a quirky artefact borne of the sleeping mind. When the dreams start to kill people, it's unsettling. When you get the dreams too, it's weird. When they start to come true, you begin to doubt your sanity. But teasing truth from Winter is never easy: You have to avoid the Villains and their penchant for murder, kidnapping and stamp collecting, ensure you aren't eaten by Nightwalkers whose thirst for human flesh can only be satisfied by comfort food, and sidestep the increasingly less-than-mythical WinterVolk. But so long as you remember to wrap up warmly, you'll be fine...
more»»

Nigel
12th August 2018
[9/10]
Archives
If you've come down this far you may be interested in our Archives, the place where all the old reviews go.

Column Ends