Latest Book Reviews...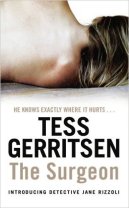 The Surgeon
by Tess Gerritsen

Average Rating
[6/10]
(1 Review)
Ben Macnair has sent in a review for
The Surgeon
by Tess Gerritsen. He slips into their homes at night and walks silently into bedrooms where women lie sleeping, unaware of the horrors they soon will endure. The precision of the killer's methods suggests he is a deranged man of medicine, propelling the Boston newspapers and the frightened public to name him 'The Surgeon'. The cops' only clue rests with another surgeon, the victim of a nearly identical crime. Two years ago, Dr. Catherine Cordell fought back and killed her attacker before he could complete his assault. Now she hides her fears of intimacy behind a cool and elegant exterior and a well-earned reputation as a top trauma surgeon. Cordell's careful facade is about to crack as this new killer recreates, with chilling accuracy, the details of Cordell's own ordeal. With every new murder he seems to be taunting her, cutting ever closer, from her hospital to her home. Her only comfort comes from Thomas Moore, the detective assigned to the case. But even Moore cannot protect Cordell from a brilliant hunter who somehow understands - and savours - the secret fears of every woman he kills...
more»»
Ben Macnair 30th September 2016
[6/10]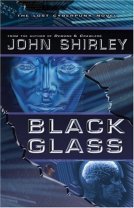 Black Glass
by John Shirley


Average Rating
[9/10]
(1 Review)
Paul has sent in a review for
Black Glass
by John Shirley. Taking the fall for his younger brother, Richard Candle went from being a cyber cop to a condemned criminal. After four years of 'UnMinding' with his mind suppressed and his body enslaved he's released to discover his brother has slipped back into the underworld of the V-Rat: the virtual reality addict. Meanwhile, Candle's harried by the murderous Grist, the head of the world's biggest multinational. But his real enemy is something else: a conscious program, the Multisemblant, a meld of copied personalities, the dark side of five powerful people, with its own brutal agenda. Human society is sinking ever deeper into a mire of escapism, but Richard Candle, looking for his missing brother, fights his way through the real world of underground stock markets, flying guns, the trash-walled labyrinth of Rooftown, and the fringe of the fringe...
more»»

Paul Lappen
30th September 2016
[9/10]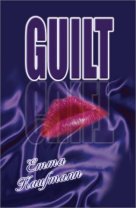 Guilt
by Emma Kaufmann

Average Rating
[9/10]
(1 Review)
Molly has sent in a review for
Guilt
by Emma Kaufmann. Bridget Jones meets Agatha Christie - a whodunit for the 21st century. Psychological suspense tracing the lives of Gilda and Clive, dysfunctional products of a twisted upbringing. As they try and extricate themselves from their gothic past, someone will have to be sacrificed. This is a spine tingling tale of murder, mayhem and emotional catharsis. Clive's analyst, Dr. Gerber, watches coolly as the drama unfolds. To him, the players are dehumanized, merely case studies in psychopathology. Will Dr. Gerber be able to stop the process from reaching its deadly conclusion? Or is it already too late...
more»»
Molly Martin
30th September 2016
[9/10]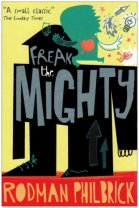 Freak the Mighty
by Rodman Philbrick

Average Rating
[9/10]
(2 Reviews)
Hannah has kindly sent in a review for
Freak the Mighty
by Rodman Philbrick. Extraordinarily powerful, uplifting and memorable, the story of
reak the Mighty
explores an unlikely friendship, and finds optimism and humour in a story of great poignancy. Bring your tissues. Maxwell Kane is feared and bullied because of his mental slowness and enormous size. Maxwell is used to being called Stupid. But this is not the only cross he has to bear; Maxwell's father is in jail for murdering his mother. Kevin is smart, quirky and funny with insatiable curiosity and zest for life but he suffers from a rare genetic condition, which inhibits the growth of his body. Kevin is used to being called Dwarf. And he is used to everyone laughing at him. On account of his size and being some cripple kid. Yet the combination of Kevin and Maxwell is formidable, when together they become
Freak the Mighty
...
more»»
Hannah 30th September 2016
[9/10]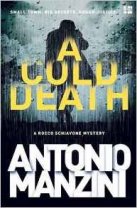 A Cold Death
by Antonio Manzini

Average Rating
[8/10]
(1 Review)
Chrissi has reviewed
A Cold Death
by Antonio Manzini. Small towns can hide big secrets, but Rocco Schiavone will do whatever it takes to bring them into the light. The second novel in the internationally bestselling series from Italian crime maestro Antonio Manzini. In an elegant apartment in a chilly Alpine town a cleaning lady makes a gruesome discovery: the body of her employer hanging from a chandelier in a dark room in an apparent suicide. Working the case is Deputy Police Chief Rocco Schiavone, banished from his beloved Rome to snowy, small-town Aosta. An incurable cynic, perpetually at war with the world – and the weather – Rocco is unconvinced that Esther killed herself. Armed with his intuition and his inimitable brand of morality, he begins to hunt for a killer. But as he digs deeper into Esther's life Rocco is increasingly troubled by personal matters: his dissatisfied girlfriend Nora; the very vocal memory of his deceased wife, Marina; and a score that still needs settling back in Rome....
more»»
Chrissi
31st August 2016
[8/10]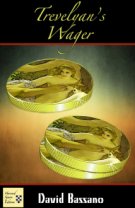 Trevelyan's Wager
by David Bassano

Average Rating
[9/10]
(1 Review)
Nigel has reviewed
Trevelyan's Wager
by David Bassano. This intriguing story investigates timeless themes of life and death, as genetically-modified individuals enjoy eternal youth in great luxury on the mysterious island of Elysium. The trillion-dollar Elysium Corporation has perfected the science of genetically-induced immortality. Decay and death are no longer inevitable. For the right price, you can now enjoy eternal youth, and in great luxury. This is mankind's ultimate achievement. William del Grappa, a journalist with a taste for the dark side of human life, is invited to this paradise by Sophia Trevelyan, an Immortal of almost mythical intelligence and beauty. Life on Elysium is utterly perfect – or so Sophia thinks, before her indelicate visitor dis-covers a critical flaw...
more»»

Nigel
31st August 2016
[9/10]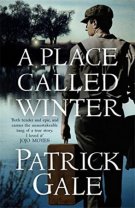 A Place Called Winter
by Patrick Gale

Average Rating
[7/10]
(1 Review)
Ben Macnair has sent in a review for
A Place Called Winter
by Patrick Gale. To find yourself, sometimes you must lose everything. A privileged elder son, and stammeringly shy, Harry Cane has followed convention at every step. Even the beginnings of an illicit, dangerous affair do little to shake the foundations of his muted existence - until the shock of discovery and the threat of arrest cost him everything. Forced to abandon his wife and child, Harry signs up for emigration to the newly colonised Canadian prairies. Remote and unforgiving, his allotted homestead in a place called Winter is a world away from the golden suburbs of turn-of-the-century Edwardian England. And yet it is here, isolated in a seemingly harsh landscape, under the threat of war, madness and an evil man of undeniable magnetism that the fight for survival will reveal in Harry an inner strength and capacity for love beyond anything he has ever known before. In this exquisite journey of self-discovery, loosely based on a real life family mystery, Patrick Gale has created an epic, intimate human drama, both brutal and breathtaking. It is a novel of secrets, sexuality and, ultimately, of great love...
more»»
Ben Macnair 31st August 2016
[7/10]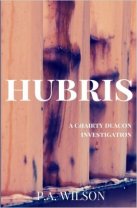 Hubris
by P. A. Wilson


Average Rating
[8/10]
(1 Review)
Paul has sent in a review for
Hubris
by P.A. Wilson. or Charity Deacon, a private investigator with a nose for trouble, danger is just a way of life. She witnesses a car crash that hides a brutal murder. The police don't talk to PIs, but maybe they'll explain why the victim had a bullet hole in his head in exchange for the photos and video she collected right at the scene. Her latest client is a young streetwalker named Val. She's used to fending for herself, but her sister Emma has fallen into something big, and anyone who shows too much interest in this particular business is liable to catch a sudden case of death. She needs the help of a pro, and soon, or Emma may not survive to be rescued. As Charity traces each lead with Val in tow, they get closer and closer to the most dangerous criminals in the city — the Chinese gangs that like to kill anyone who gets too curious...
more»»

Paul Lappen
31st August 2016
[8/10]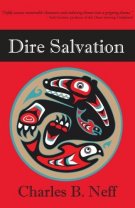 Dire Salvation
by Charles B. Neff

Average Rating
[8/10]
(1 Review)
Molly has sent in a review for
Dire Salvation
, Charles B. Neff's captivating fifth thriller, the story of a complex murder investigation that propels local law enforcement officers to search for the source of a sophisticated new drug. Set in the Cascade Mountains of Central Washington state, the pace of Dire Salvation is swift, as accelerating action over five days builds suspense at every turn. Calla Ogden's carefully organized life as a social worker in Washington's Central Cascade Mountains begins to fall apart when her half-brother is arrested for murder. The investigation centers on a fish hatchery operated by a local Native American tribe, and soon draws in Mayor Phil Bianchi and Greg Takarchuk, a junior police officer. As Phil and Calla grow close, they confront causes for the murder that bring them face to face with a dangerous new drug and with old events tied to Calla's native heritage. Native lore and modern science combine in a treacherous final confrontation that threatens to sweep away many lives, and with them, new-found love...
more»»
Molly Martin
31st August 2016
[8/10]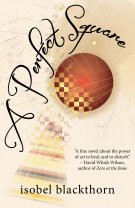 A Perfect Square
by Isobel Blackthorn


Average Rating
[8/10]
(1 Review)
Michelle Saftich has sent in a review for
A Perfect Square
by Isobel Blackthorn. When pianist Ginny Smith moves back to her mother's house in Sassafras after the breakup with the degenerate Garth, synaesthetic and eccentric Harriet Brassington-Smythe is beside herself. She contrives an artistic collaboration to lift her daughter's spirits: an exhibition of paintings and songs. Ginny reluctantly agrees. While mother and daughter struggle with the elements of the collaborative effort, and as Ginny tries to prise the truth of her father's disappearance from a tight-lipped Harriet, both are launched into their own inner worlds of dreams, speculations and remembering. Meanwhile, another mother and artist, Judith, alone in a house on the moors, reflects on her own troubled past and that of her wayward daughter, Madeleine. Set amid the fern glades and towering forests of the Dandenong ranges east of Melbourne, and on England's Devon moors,
A Perfect Square
is a literary thriller of remarkable depth and insight...
more»»
Michelle Saftich 31st August 2016
[8/10]
Archives
If you've come down this far you may be interested in our Archives, the place where all the old reviews go.

Column Ends