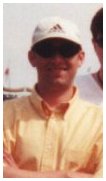 Not easy to write why you read! Here goes...
I don't remember when I started reading although I do remember my first book, Biggles in the Baltic. I think I was ten or eleven, not very old and up until then I viewed reading as a school chore that had to be done. In other words I didn't bother much. This was the first true 'Novel' I read of my own free will and from then onwards I was hooked.
My main passion today is Science Fiction, although I also read Science Fantasy, Horror, Thrillers and 'Black' Comedies. The passion for Science Fiction began when I read the American pulp fiction series of Perry Rhodan books (if anyone has ever read these I would be most surprised:). There are about 110 of these in all and I spent a great deal of time hunting them down and still have them in the collection to this day.
My favourite authors would have to be Greg Egan, Iain Banks, Colin Bateman, Terry Pratchett, Dean Koontz, James Herbert, Mick Farren, Isaac Asimov, Harry Harrison, Greg Bear... the list could go on and on :). Of these Greg Egan has to be the most thought provoking. I defy anyone to read Permutation City and not reconsider their view on the meaning of life... that which makes us what we are.
If you would like to send any comments please mail me at nigel(at)booklore.co.uk.
Articles
Below are various articles written by Nigel:
ISBN - International Standard Book Number
Reviewing for BookLore
Two Readers Talk...
BookLore is Changing
BookLore Review Scoring
Book Collecting
Three Go Mad in Wales - Hay-On-Wye
The History of Booklore