We have been asked on a number of occasions about our book collection and so with this in mind I thought I'd do a little article.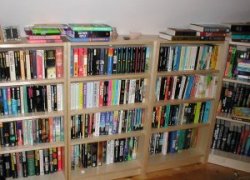 I started collecting books at an early age, about 11 or 12, taking my pocket money to the local Fords or Co-op and picking novels off the revolving remainder stands they used to have (does anyone remember these?). I couldn't get enough and soon started to build a sizeable collection. At that time it was mainly Science Fiction but later I started on Fantasy, Horror and lastly Thrillers and I still have all these books in the collection today.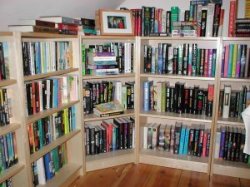 I didn't really have any bookshelves at first and the books would be stacked anywhere. On my wardrobe shelf I had a Gerbil cage along with some of the books. It escaped one day while I was at school and made a nice paper nest. I got home and was not impressed. That was the last Gerbil I owned. Through the years I have read varying amounts (at 18 serious beer drinking and chasing women became the main preoccupations:) sometimes only managing 2 or 3 books a month, while at others reading 4 or 5 a week, depending on mood and girlfriend situation. Always had a book on the go though.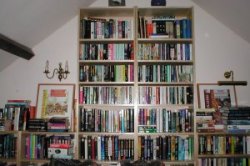 Then one lucky night I met Chrissi (in a rather dire Mansfield nightclub on 'Grab-A-Granny' night) we got talking and soon found we had a common love of books. Two of my main hobbies in a single entity… heaven. From this moment on there was no turning back and we eventually moved in together and two collections merged. Chrissi's wasn't quite as large as my own but for the first time the collection contained a lot of books I hadn't read.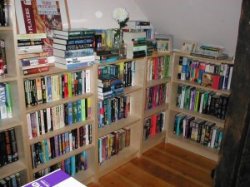 Over the years we have added to it at every opportunity, sort of saving for a rainy day, to such an extent that about 10-15% of the books are presently unread. This might seem odd but it is nice to be able to browse unread novels with enough to choose from such that one will always suit your mood.
The collection now numbers approximately 1200 paperback and 1000 hardback books of various genres with another 350 non-fiction titles. Our main problem is finding places to live with enough wall space for all the bookshelves.
Some many books, so little time...
Nigel - 1st May 2002
---
Update: There is never enough shelf space...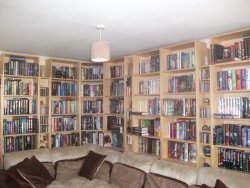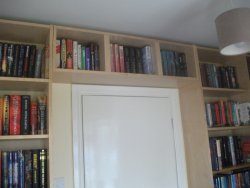 It has been some time since the original article was written so, as we are still asked the same question over and over again, I thought I would update you on the current all important statistics; the book collection now numbers approximately 1750 paperback and 1700 hardback fiction titles with 650 non-fiction titles... and counting.
As always the biggest problem is storage and so the shelving arrangements have also expanded, even to the point of using the wall space above doors! The small bit of clear wall to the left of the door is only there because of the light switch.
While there is still some space above the books for the dreaded horizontal stuffing, which you will notice has already started, there is little room left. I think the next move is to change the doors to the ones with the shelves, however, I'm not sure Chrissi would go for that but it may be worth a try; the alternatives are to get rid of some books (eek!) or move house... :)
Out of interest are there any book lovers out there that have enough shelf space and do not have horizontal books stuffed in every spare nook and cranny?
Nigel - 15th November 2009