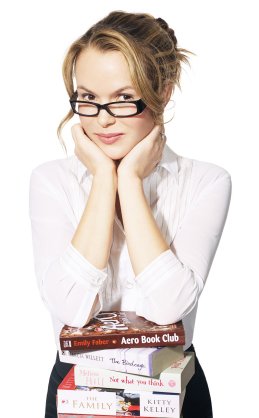 TV Star Amanda Holden is best known for her role in the popular BBC drama Cutting It and most recently starred alongside Stephen Tomkinson in the successful Sunday night TV show Wild at Heart. However, since giving birth in January, the 35 year old actress has been taking a well-earned break from her acting career and has been enjoying the first few months of motherhood.
Amanda and her music producer fiancée Chris Hughes had their first child together on 20 January this year. Lexi, christened Alexa Louise Florence Hughes was born by caesarean section, weighing 6lb. Amanda said 'I nicked the name Lexi from the niece of a good friend. She's called Lexi Grace but we called her Alexa in case she wants a more mature name when she gets older. Louise is my middle name, Florence is my grandmother's middle name and my favourite city.'
When Amanda returns to South Africa this summer to film the second series of Wild at Heart, baby Lexi will go with her, 'She's so gorgeous, I just couldn't leave her behind. I will be there until November, so my daughter is coming with me, as is Chris, my mum and his mum!'
Amanda admits that she is lucky to have been able to have a break from acting, 'I am really enjoying motherhood and it has been great being able to spend the first six months at home with Lexi. I took the advice of my mother and have established a strict routine. I feed her at 7:00, 11:00 and 3:00 both morning and night, which means I get a bit of structure to my day and some time to relax. 'I have learnt to make the most of the time when she is asleep, whether it be indulging in some internet shopping, emailing my friends or chilling out on the sofa and having a good read.'
Amanda appreciates how important it is for busy mums to take time out from their hectic schedules and indulge in a bit of 'me time'. 'Every woman, married or single should take half an hour every day to settle down and read a book to enjoy a bit of escapism. My life is often hectic and my free time is precious, but I've found that simply stealing fifteen minutes to curl up with a good book and a bar of my favourite chocolate can be a real heavenly experience'
Amanda loves nothing more than indulging in a good book and is currently the face of The Aero Book Club. Over the next six months, Amanda will join New Woman readers in reviewing some of this season's must-have reads, labelling her recommendation 'Aero Book of the Month' as the ultimate book to melt into. Amanda said 'I think Book Clubs are a great idea and find it really useful to discover what books other people have enjoyed. I often chat with my girlfriends about the latest books I've read and always recommend ones I have enjoyed to family and friends'.
'I enjoy reading all kinds of books including autobiographies, romances and detective novels. I was completely gripped by the Da Vinci Code but my all time favourite book has to be 'A Prayer for Owen Meany' by John Irving. I love the way he writes and the premise too, it's about a young disabled boy, his thoughts on life and how he overcomes everything. Since giving birth to Lexi though, I have been reading a lot of lighter chick lit novels. They are great for dipping in and out off and are perfect for busy mums.'
Amanda is not only a keen reader but has also done a bit of writing herself 'I began writing children's short stories before I had Lexi and I found it very therapeutic. My stories involve my dogs, Nobby and Fudge , and all have simple morals woven into them because I'm old fashioned and I like children to learn from what they read. The morals vary from 'remembering to be kind' and 'don't run away' to 'making 'sure you eat lots of fruit and veg.'
Amanda is encouraging other women to pick up a pen and start writing 'The Aero Book Club is running a creative writing competition and we are looking for budding writers to send in their short stories. The stories can be about absolutely anything and the winning entry will be published in the November issue of New Woman magazine. This is a brilliant opportunity for aspiring authors to have their work published and maybe we will discover the next JK Rowling or Marion Keynes!'
Amanda's new series of Wild at Heart will be aired next autumn on ITV.
For more information on The Aero Book Club go to the website, www.aero-bookclub.co.uk.
Nigel - 16th July 2006