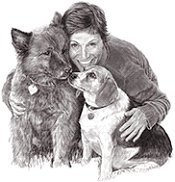 Kimberly Greene, Ed.D. creates, designs, researches, and implements media that engages audiences of all ages both cognitively and emotionally. Her work bridges the seemingly divergent worlds of entertainment and education on both macro and micro levels that is distinctive and powerful.

This ability to work on both the macro and micro levels allows Dr. Greene to play many roles. For LeapFrog Toys, her scripts for several interactive books continue to sell well, as do as a series of downloadable 'talking' worksheets. Her ideas regarding the vast potential of LeapPads led to the Afghan Family Health Book, a talking book that teaches basic infant care and nutrition to the women of Afghanistan, a project funded and distributed by The Department of Health and Human Services. She serves as an educational advisor on books for emerging and young readers for Rourke Publishing. Her work with Honda of America brought the excitement of robotics and technology to tweens across the United States and Canada with ASIMO, the world's first truly walking robot.

In 1998, Dr. Greene founded EdTech21, a consulting firm that takes the axiom of 'the medium is the message', to a present-day, active level. She consults, refines, creates, and implements programs and projects as diverse as content, interface, curriculum, appropriate use of technology for learning and training purposes, and the applicability of media materials for intended audiences. Her client list includes such diverse companies as those previously mention and XOW! Software Inc., Knowledge Kids Network, Kartoo, The Hollygrove Residential Home for Children, and Highwood NP.

With both a Masters of Educational Arts and a Doctorate of Educational Technology from Pepperdine University, Dr. Greene stays connected to academia in her role as an assistant professor of education for Chapman University. During her doctoral studies, Dr. Greene created a virtual world for inner-city children at The Accelerated School, in south Los Angeles, to use as an environment where they could explore varying means of communication and develop conflict resolution skills.

Before delving into the educational world, Dr. Greene toured the world as a performer, choreographer and director, performing for audiences across North America and Europe. Her experience includes a tour of duty as a Director of Entertainment for Club Med. This eclectic background enables her to shed a new perspective on the value of entertainment in education and vice versa, a topic she passionately debates.

Dr. Greene is a well-regarded lecturer and speaker. Her presentations have been featured at such major conferences as Canada's Shaw's Programming Children's Initiative, Women in Technology (WIT), The National Education Computing Conference (NECC) and The Kentucky Educational Technology Conference (KETC).
Check out BookLore's exclusive interview with Kimberly Greene here.
In addition to her degrees from Pepperdine, Dr. Greene also holds a Bachelor of Fine Arts degree from New York University. She currently resides in Los Angeles, California, with her husband, Todd. A rare free moment is spent either walking her dogs or chasing after her cats. My Sister's a Pop Star is her first book