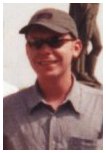 A brief history of my time...
During Junior school I read quite a lot of books, generally because it was competitive. I wanted to be at the highest level of Janet & John as possible but going through Middle and Comprehensive school the competitiveness was lost and apart from the odd Tom Sharpe book I wasn't really interested in fiction.
After progressing past the Haynes Manuals I went to university (which wasn't a prerequisite, but it helped:) and as usual over the next couple of years studying text books I needed escapism again.
This was when Nige introduced me to a few books that were certain to spark my imagination. Amongst these were the Discworld novels and Good Omens by Terry Pratchett and Neil Gaiman.
Since then I have sporadically been reading a variety of books by different authors, mainly due to the fact that I don't live in the UK anymore and German TV is somewhat dire:)
I still haven't been sold on the Sci-fi books though, my favourite are the observational or dark humour type.
Contact editors(at)booklore.co.uk.