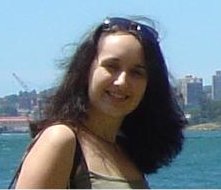 Hello. My name is Nadine and I am a bookaholic.
My earliest memories are of sitting on my Dad's lap, being read 'Miffi's Birthday' by Dick Bruna and 'The Supermarket Mystery' by Richard Scarry. I don't think I have spent a day without reading something ever since.
I met Chrissi through work and immediately recognised a kindred spirit when I found her in the staff room with her nose in a book. We've swapped many a recommendation since, and this site is a great way to spread the word when something rare and special emerges from the vast pool of written words out there. I hope I can be of use in uncovering a few gems.
My all-time favourite novels include 'Three Men in a Boat', 'Watership Down', Douglas Adams' 'Dirk Gently' books and the whole Harry Potter series (so far). I am greatly excited by the current wealth of stunning new books for children, and am enjoying my second childhood immensely.
Apart from reading, my hobbies include needlework, attempting to tame my garden, and trying to bully my boyfriend Dan into reading 'Harry Potter'. He assures me that he won't until I stop going on about it.
My current ambitions are to write a fantasy novel, learn to ride a bike (I was too busy reading when I was a kid) and to read the whole of Stephen King's 'The Stand'.
If you would like to send any comments please mail me at editors(at)booklore.co.uk.
Articles
The links below take you to articles written by Nadine: