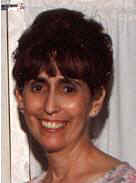 Molly Martin, writing as m j hollingshead and Tomsdattar is the mother of two young adult sons. This former boy scout adult scouter and kindergarten teacher began writing 'feature news articles,' weekly news columns, 'club news,' and editorials for small local newspapers following a move from California to Oklahoma in 1990.
Topics for weekly columns included Plant Care, The War Between The States in Indian Territory, Reminisce, Critters, School Readiness, Parenting Tips, a Travelogue, and Depression Era Kitchen Collectibles and 'To Be Wise,' a devotional based on the biblical book of Proverbs.
Molly writes reports on a variety of topics for a New York firm as well writing and sending for publication book reviews of mysteries.

If you would like to send any comments please mail me at editors(at)booklore.co.uk or visit my web site at http://www.angelfire.com/ok4/mollymartin.
Also check out Molly at http://www.AuthorsDen.com/mjhollingshead.