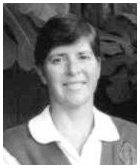 Denise is an author and reviewer who provides book reviews on her own site as well as several other sites on the web, including Blether, Midwest Book Review and Road to Romance.
The following, taken from her own biography page, will tell you a little about her:
Name: Denise M. Clark
Born: June 13th
Bad Habits: Endless
Good Habits: ummm, a few
Pet Peeve: too many... can't think
Here are some of my favourite things, just in case you might want to know...

Books: Red Dragon, anything by Iris Johansen, Patricia D. Cornwell, Jonathan Kellerman, John Sanford, and just about everyone else.
Movies: A Beautiful Mind, Gladiator, Das Boot, The Searchers
TV Shows: C.S.I., Medical Detectives, F.B.I. Files
Actors: Cary Grant, Robert DeNiro, Russell Crowe, Nicholas Cage
Actresses: Meryl Streep, Katherine Hepburn
Musicians: Alice Cooper (my husband's fault), Peter Maffay (German), Midnight Oil (Australian) and Roger Waters.
Animals: I like wolves and bears and every other animal except insects (yuk) and flying bugs (double-yuk!)
Places: Montana (oh give me a home, where the buffalo roam...)

I love to research military and Native American history. I especially like maps... battle maps, historical maps, and any other kind of map...
If I could go anywhere: I would like to see the beachheads of Normandy and the World War One memorial at Chateau-Thierry, France. 'Course, that's just for starters... I could go on forever...
What do I do when I'm not writing? Other than being lazy?? Well, I do your normal, typical everyday chores, and I love to read and quilt and read... and do crafts, and read...

Well, that's about as exciting as my life gets... sorry.
Novels
"Cross the Line"
"A Man's War"
If you would like to send any comments please mail me at editors(at)booklore.co.uk.