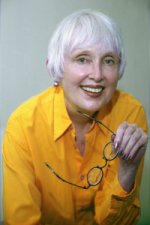 Carolyn Howard-Johnson was the youngest person ever hired as a staff writer for the Salt Lake Tribune - "A Great Pulitzer Prize Winning Newspaper." She wrote features and a teen column under the pseudonym Debra Paige. Her experience before that included writing for her beloved high school newspaper, The Olympus High Thunderbolt and her college newspaper, The University of Utah Daily Chronicle.
Later, in New York, she was an editorial assistant at Good Housekeeping Magazine. She was also publicity writer for Eleanor Lambert (fashion) in that city where she wrote releases for celebrity designers of the time including Pauline Trigere, Rudy Gernreich and Christian Dior.
Other early writing experience included a short stint at the Oak Park Press (a weekly in the Chicago area) and freelance articles in magazines such as Ingenue and humorous features in magazines such as Stereo.
She also founded, operated and did the publicity and advertising for her own small chain of retail gift stores.
When she began writing This Is The Place, she did postgraduate work in writing at UCLA's Extension Division including their Writers Conference. She also attended San Diego State Writers Conference and has studied writing in Prague and St. Petersburg, Russia.
She writes a regular freelance fashion column for the Pasadena Star News, retailing column for Home Decor Buyer and an occasional movie review for The Glendale News-Press. Her poetry and short stories appear frequently in literary journals and anthologies.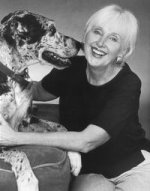 Her proudest achievements are the completion of her first novel, This Is The Place, and her first screenplay, The Killing Ground. A chapter from the novel has been selected as a finalist for the prestigious Masters Literary Award and has won eight other awards. Her second book, Harkening: A Collection of Stories Remembered, is nonfiction and has won three awards including Wordthunder.com's Award of Excellence.
Carolyn has a husband who is an actor, two grown children and three grandchildren. She admits to waiting a really long time to write her novel. "Sometimes giving birth is harder than others. This Is The Place had a longer gestation period than most novels. I think time and a little age-related wisdom made it a better book."
She speaks on Utah's culture, tolerance and other subjects and has appeared on TV and hundreds of radio stations nationwide. She is an instructor for UCLA Extension's Writers' Program and has shared her expertise on publishing and writing at venues like San Diego State's world renowned Writers' Conference and Call to Arts! EXPO. She was recently awarded Woman of the Year in Arts and Entertainment by the California Legislature and her nitty gritty how-to book, THE FRUGAL BOOK PROMOTER won USA Book News' "Best Professional Book 2004." She loves to travel and has studied writing at Cambridge University in the United Kingdom, UK: Herzen University in St. Petersburg, RU; and Charles University in Prague.

Carolyn Howard-Johnson has put together some sound advice in The Great First Impression Book Proposal: Everything You Need to Know About Selling Your Book in Twenty Minutes or Less, available in the from Amazon. As time goes on, learning to write a proposal is becoming more important for more kinds of writing. In today's rushed world, no one wants to spend lots of time learning to write a proposal. Learning to write a proposal that works is essential. The Great First Impression Proposal tells writers everything they need to know about selling a book or article idea in one, quick Amazon Short; get your copy here.
If you would like to send any comments please mail me at editors(at)booklore.co.uk or visit my web site at http://www.howtodoitfrugally.com/ or follow me on Facebook at http://Facebook.com/carolynhowardjohnson.
Also check out Carolyn at http://www.AuthorsDen.com/carolynhowardjohnson.
Articles
The links below take you to articles written by Carolyn:
Kindle Formatting Made Easy
Twelve Tales of Woe from a Busy (and Grumpy) Editor