Why I love books...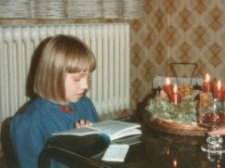 No idea how it happened that I love books as much as I do as no one in my family used to read when I was little. I remember though, making my Dad read The Story of the Holy Night (the rhymed version) to me every evening for nearly a year when I was about four or five. He did his best to create that Christmassy feeling even in August and with 32°C, though he couldn't help falling asleep every now and then. He must have been quite happy when I started reading myself.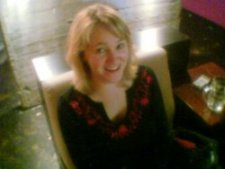 The first novel-like book I got was for Christmas in 1981. I can't remember the title but I had finished it by Boxing Day and asked for more. So my mum gave me a library card and with every Birthday and Christmas she increased the book density in my room to 214 when I was thirteen. Later I took a degree in German and English Literature and Linguistics with the long-term plan of a) to work in publishing (living in England now so preferably as a translator of English fiction into German, or as editor for English translations of German books) and b) finish and publish at least one of the pieces I've started writing myself.
During my studies I read tons of the all time German and English classics (Shakespeare, Goethe, James Joyce, Jane Austen, Schiller, Thomas Mann, Max Frisch, Virginia Woolf, William Wordsworth, etc.etc.etc.etc.) and most of the time I really enjoyed it. Now that I'm free to choose what I want to read I sometimes still pick one of the canon. I love complicated family sagas that go on for generations (best read ever: Die Buddenbrooks by Thomas Mann), and stories that reveal something essential about the inner development of characters, their relationships, the society or time they live in. I also like philosophical/spiritual/scientific/esoteric books that try to explain the world (e.g. A Short History of Time by Stephen Hawking or, completely different: Lifecycles. Reincarnation and the Web of Life by Christopher M. Bache.) I don't think escapism is my motivation for reading. It's rather that I'm on a constant search for what makes the world go round, and as long as I haven't found a plausible explanation I will go on reading. Or at least that long.
To talk to Alex, in English or German... email editors(at)booklore.co.uk.