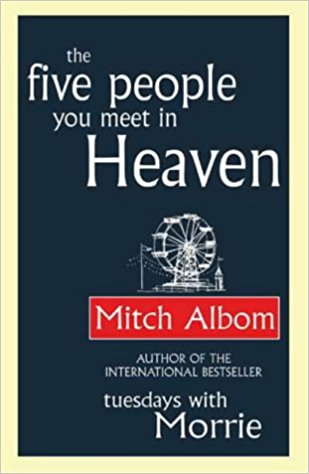 East Markham Book Club
The Five People You Meet in Heaven
by Mitch Albom

The Five People You Meet in Heaven is a wonderfully moving fable that addresses the meaning of life, and life after death, in the poignant way that made Tuesdays with Morrie such an astonishing book. The novel's protagonist is an elderly amusement park maintenance worker named Eddie who, while operating a ride called the 'Free Fall', dies while trying to save a young girl who gets in the way of a falling cart that hurtles to earth. Eddie goes to heaven, where he meets five people who were unexpectedly instrumental in some way in his life. While each guide takes him through heaven, Eddie learns a little bit more about what his time on earth meant, what he was supposed to have learned, and what his true purpose on earth was. Throughout there are dramatic flashbacks where we see scenes from his troubled childhood, his years in the army in the Philippines jungle, and with his first and only love, his wife Marguerite.

The Five People You Meet in Heaven is the perfect book to follow Tuesdays with Morrie. Its compellingly affecting themes and lyrical writing will fascinate Mitch Albom's huge readership.


Next Meeting Sunday 25th February 2018 at 7.30pm


Club Opinion
February's book club did not disappoint. We received a great turn out of members, all eager to discuss our latest book The Five People You Meet in Heaven.

This beautiful piece of writing gave a wonderful incite into the authors view of heaven and the idea that we go on to meet individuals who's life we impacted on along the way.

Set in an attraction park on Ruby Pier readers follow the life and death of Eddie the maintenance man, his heaven and the five people he meets on his heavenly journey. Each person had a significant impact on Eddies life and weave a tale of sorrow, regret, life decisions and love, leading the theme that there are no random acts in life.

Mitch Albom is an accomplished writer who offers the reader a different perspective of heaven , leaving more questions than answers.

The book club group conclusively agreed that this book was worthy of recommendation and receives a rare 'thumbs up'.